Chelsea Medics is excited to announce a ground-breaking innovation in proactive healthcare – a simple blood test that checks for 70 different types of cancer.
WHY CHOOSE PROACTIVE CANCER SCREENING
The facts about cancer in the UK are indisputable. The figures from leading cancer charities estimate that there are currently 3 million people living with cancer in the UK, with at least one person diagnosed every 90 seconds. They also estimate that these figures will rise to 4 million by 2030.
We also know that early detection is often critical in gaining a successful prognosis and less invasive treatment.
Trucheck™ is an innovative blood test that can help you detect cancer early – even before you show any symptoms. It also looks for multiple cancers, many of which are not covered in routine screening.
It was developed, tested, and validated in clinical trials on over 40,000 participants, and the test has a sensitivity of 88.2% in detecting circulating tumour cells (CTCs) in blood samples. 
HOW DOES THIS TEST WORK?
Cancer sheds cells and tumour fragments into the bloodstream when it is present. These are known as circulating tumour cells (CTCs). These cells are the main reason cancer can eventually spread to other body areas, particularly if they move in clusters.
The Trucheck™ Intelli test can detect CTCs and even indicate the likely organ of origin. At this point, your Chelsea Medic doctor can follow up with a referral for further investigations with a cancer specialist.
Trucheck™ Intelli can detect over 70 types of solid organ cancers. This includes more commonly occurring cancers such as breast, lung, prostate, melanoma and bowel, alongside many other cancers that are not routinely screened for.
It is also possible to screen specifically for Colon, Breast or Prostate cancer, which account for 81% of all cancer cases worldwide. At Chelsea Medics, we offer you the option of both the Multi-Organ and Single-Organ tests.
BOOK YOUR TEST
Click here to email us to arrange your test. You will be sent a health questionnaire, consent form and the order form for the test to complete.
We will then arrange an appointment in the clinic with our doctor to take your blood sample.
YOUR CONSULTATION
At your consultation with your Chelsea Medics doctor, we will carefully explain what the test can achieve and answer any questions you may have.
We will then take a small blood sample.
THE ANALYSIS
Your sample will be analysed at a leading specialist laboratory based in the UK. The report will then be sent to your Chelsea Medics doctor in approximately two weeks.
YOUR FOLLOW-UP
You will be invited back to the clinic for a follow-up appointment o discuss your test results. A positive test has found an indication of CTCs in your sample. This does not mean you have a cancer diagnosis now, but you are at high risk. We can refer you to leading private cancer specialists if required.
The cost covers all pre- and post-consultations with our doctor in the clinic, the sample taking, and the laboratory and report fees.
Trucheck™ Intelli (up to 70 solid tumours): £1,215
Trucheck™ Breast: £775
Trucheck™ Prostate: £775
Trucheck™ Colon: £775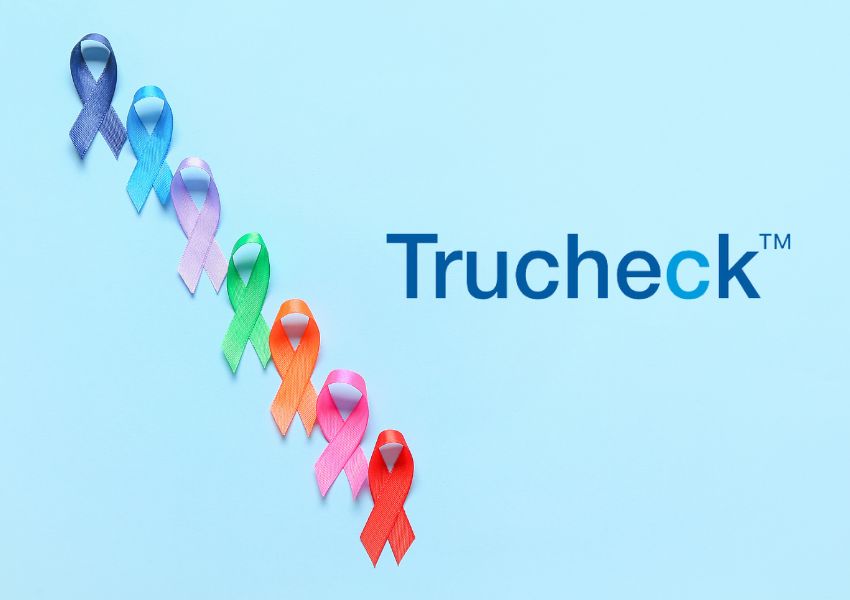 FREQUENTLY ASKED QUESTIONS
How reliable is the Trucheck™ test?
For more information on the test, including scientific publications and clinical trials, please click here.
Do I need to see a doctor to access this cancer screening test?
A doctor must approve and organise the Trucheck™ blood test for you. We can also advise you on other screening tests at this stage.
Which cancers does the test screen for?
The test can check for more than 70 solid organ cancers. These are cancers which affect the organs rather than the blood. These include:
Adrenal
Biliary Tract
Breast
Gastrointestinal
Gynaecological
Head and Neck
Liver
Lung
Melanoma
Osteosarcomas
Salivary Gland
Prostate
Soft Tissue
Thymus
Thyroid
Urinary Tract
What happens if my test comes back as 'positive'?
A positive test result means that CTCs have been detected in your blood. The test also indicates the location in your body of the cancer with reasonable accuracy. Whatever your result, you will have a follow-up consultation from your doctor. They can advise you on the next steps and refer you to leading private oncology specialists if required.
What does a 'negative' result mean?
A negative result means that at the time of the test, there were no detectable cancer cells in your bloodstream for the cancers being tested. The chance of having an active malignancy present in the body is low.
This does not entirely rule out the possibility of cancer as some cancers may not have detectable tumour cells in the blood, and it does not mean that you will never develop cancer.
Who is suitable for this test?
We will ask you to complete an online form before your consultation, and there are certain restrictions on who can take the test.
You must be 40 years or older
If you are aged between 35 and 40 and are deemed high-risk, please get in touch to discuss further
You must have no symptoms of cancer currently – please get in touch with your GP immediately if you are concerned about any symptoms you may have
You must not have been diagnosed with any cancer previously
You must not have previously undergone any treatment for any cancer
You must not have had a blood transfusion within 72 hours of your blood sample being taken
How often can I take the test?
This is a non-invasive and radiation-free screening test, so regular testing is possible. We advise patients that the test can be performed as part of an annual health check.
To find out about the Healthcare services we offer or make an appointment