While some women have very mild symptoms during the time of perimenopause and menopause, others can experience debilitating symptoms that have a profound impact on their family, relationships, and working life. 
At Chelsea Medics, we offer support and evidence-based options to help you make an informed decision about your treatment.
You will receive bespoke, personalised care from our female-led private GP team who are trained by and members of the British Menopause Society.
During your consultation, we will discuss your symptoms and concerns in detail and carry out a full medical assessment. This will include comprehensive blood testing including hormone tests. We can also discuss the chance of developing osteoporosis, cardiovascular conditions, and breast cancer and how to reduce these risks by arranging mammograms, breast ultrasound, pelvic ultrasound and bone density scans. We also offer cervical screening services
We are able to prescribe body identical hormone replacement therapy, or HRT, and can discuss management strategies including lifestyle changes and alternative therapies, with the aim of helping you take control of your symptoms. We believe in a holistic approach to menopause and work closely with dieticians, physiotherapists, personal trainers, psychologists, Gynaecology and Dermatology Consultants.
As well as in clinic appointments, we can offer virtual consultations for both new and existing patients.
What are the common symptoms of the perimenopause and menopause?
Some women have no symptoms or just a few, easily manageable symptoms, when experiencing the hormonal changes that occur during this time. However, if you're experiencing any of the below and they are having a detrimental impact on your quality of life and relationships, then get in touch to arrange a consultation.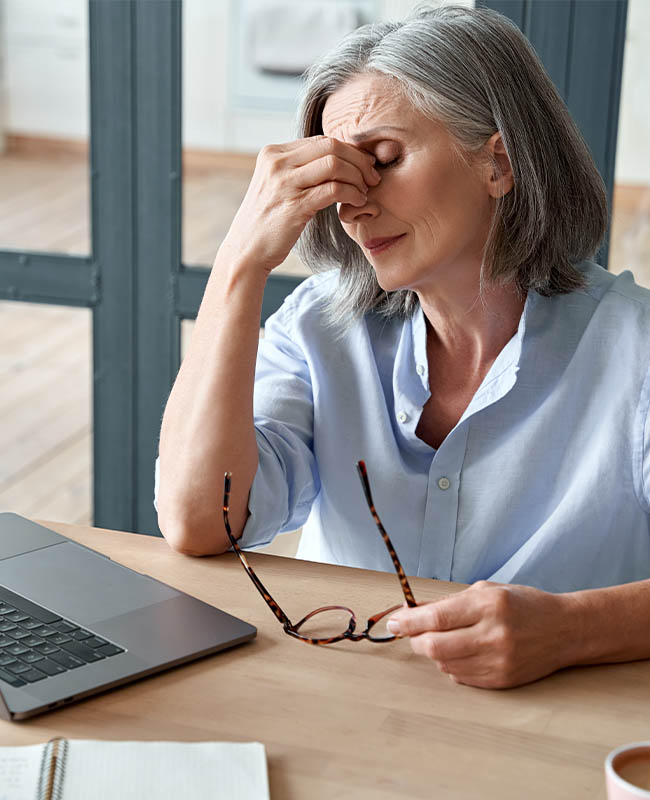 Menopausal symptoms include:
Hot flushes
Night sweats
Insomnia
Fatigue
Mood swings
Heart palpitations
Chest pain
Breathlessness
Anxiety and even depression
Thinning hair or noticeable hair loss
Vaginal dryness
Bladder weakness and incontinence
Recurrent UTIs
Dry mouth and/or eyes
Memory loss
Brain fog
Unexplained weight gain
Aching joints
Headaches and migraines
Thyroid issues
Loss of libido
Cholesterol disorders
Heart disease
Osteoporosis
Perimenopause and Menopause should not be a time of struggle. We are here to help and guide you through this journey.
Don't wait for tomorrow, do it today.
To find out about the Healthcare services we offer or make an appointment